For three decades, the Community Foundation has worked to bring together people and resources to make a difference in Monroe County. At the heart of everything we do is a vision to create a vibrant, equitable, and inclusive community where every individual has the opportunity to thrive — now and in the future.

We believe that the greatest change happens when people come together in partnership, collaboration, and generosity. Whether it's through stimulating community dialogue, grantmaking to address pressing needs, transformative solutions, or helping donors achieve their philanthropic goals, we are eager to work to make great things happen in Bloomington and Monroe County.
We are honored to share how your support over the last 30 years has made a difference in our community. Scroll below to see some incredible stories of impact. Thank you for helping to celebrate our 30th anniversary and working with us to build a better today and tomorrow for Bloomington and Monroe County. Here's to the next 30 years of impact!

On behalf of the Community Foundation Board of Directors and staff, we wish you a very safe and happy new year.
If you would like to support the Community Foundation's next 30 years, you can make a gift to support our "30th Anniversary – Foundation Sustainability Fund" or donate to any of our 250 funds.

With gratitude,
Tina Peterson
President and CEO
The Community Foundation has supported 999 education & learning grants. Examples include:
Monroe Smart Start to expand high-quality pre-K & early education
Monroe County Community School Corporation FIRST Robotics program
South Central Community Action Program Growing Opportunities job training
WonderLab's Science Sprouts Place
Greater Bloomington Chamber of Commerce Graduation Coach Initiative
Monroe County Community School Corporation Preschool Parent Liaison
Richland-Bean Blossom Community School Corporation Parent Engagement program
The Community Foundation has supported 1,143 grants supporting individuals & families. Examples include:
Hoosier Hills Food Bank freezer and refrigerated truck
Habitat for Humanity shipping container home
Monroe County Crisis Diversion Center
New Hope for Families Homeless Shelter
Monroe County United Ministries Self-Sufficiency Your Path Program
Wheeler Mission Ministries fire suppression system to serve more individuals experiencing homelessness
Beacon Inc. to support Crawford Homes and supportive services for those experiencing long-term homelessness due to a disability
The Community Foundation has supported 500 health and recreation grants. Examples include:
Ellettsville Main Street for parking at Heritage Trail to provide safe access to recreation for people of all abilities
Catholic Charities to expand mental health and counseling services for children, families, and individuals experiencing trauma
Be Loved Transportation for a lift van to provide wheelchair-assisted transportation to medical appointments
Volunteers in Medicine to merge with Healthnet to serve more uninsured and low-income insured individuals
The Community Foundation has supported 544 grants benefitting the arts. Examples include:
Indiana Limestone Symposium Lecture Series
Bloomington Academy of Film and Theatre to launch its programs
Bloomington Playwrights Project Summer Youth Programs
Lotus Education and Arts Foundation technology enhancements & renovations to the Firebay at its new headquarters
Women Writing for (a) Change creative writing collaboration with local nonprofits
Buskirk Chumley Theater stage extension project
Bloomington Creative Glass Center Youth Summer Camp
The Community Foundation has supported 200 grants for economic and community development. Examples include:
Ellettsville Main Street to engage the community in a visioning process to create a long-term development plan for the town of Ellettsville
Startup costs for CDFI Friendly Bloomington, a new nonprofit working to increase flexible and affordable financing to businesses, housing developers, nonprofits, and others in Bloomington and the surrounding area
The Community Foundation has supported 423 youth development grants. Examples include:
Boys and Girls Clubs Career Exploration Program
Richland Bean Blossom Community Schools Trust-Based Relational Intervention® (TBRI) training
Banneker Community Center for a 15-passenger vehicle to expand participation in summer and school break programs
Middle Way House to expand violence prevention programming into elementary schools to reduce the likelihood of future sexual and dating violence
The Community Foundation has provided 94 grants to support animal welfare and animal programs. Examples include:
People & Animal Learning Services fencing & expansion of equine therapeutic programs
Monroe County Court Appointed Special Advocates courthouse therapy dog
Monroe County Humane Association (MCHA) to support adoption, spay/neuter fees, or veterinary services.
Monroe County Humane Association (MCHA) for grooming equipment and supplies
The Community Foundation has supported 140 grants to sustain our environment. Examples include:
Sycamore Land Trust to expand the Beanblossom Creek Bicentennial Conservation Area & parking lot construction at the Amy Weingartner Branigin Peninsula Preserve
Ohio River Foundation Youth Conservation Teams to support internships for high school students to restore habitats in Hoosier National Forest
The Community Foundation has supported 367 scholarships, including:
The Lilly Endowment Community Scholarship, the Stinesville High School Alumni Scholarship, the Monroe County Ag Day Scholarship, the Carl Deal, Jr. Memorial Scholarship, the Tom Moeller Memorial Scholarship, the Pi Beta Phi Alumnae Club Betty Burnett Welke Scholarship, and others
The Foundation has also provided grants from the Ellettsville Dollars for Scholars fund to support scholarships for Edgewood High School seniors
---
The Community Foundation also distributes grants from over 80 designated and 50 donor-advised funds every year. Nonprofits may use grants from these funds to support their charitable operations in any way they feel appropriate.This year, the Community Foundation will distribute more than $400,000 in agency, designated, and donor-advised funds!
---
Because you gave, the Community Foundation has supported nonprofits doing incredible things in Monroe County.
Click to watch this video to see more ways your support has made their work possible.
While designated and competitive granting often serves to address areas of urgency or need, the Community Foundation Board may also elect to provide proactive funding to address compelling opportunities of particular significance to our community. These initiatives often offer transformative solutions and generally begin with investment and leadership from the Community Foundation.
Through Monroe Smart Start, the Community Foundation seeks to ensure that every child is prepared for success in school and in life.
Regional Opportunity Initiatives was established with support from the Lilly Endowment to advance economic and community prosperity across an 11-county region, including Monroe County, now called the Indiana Uplands.
As a member of the STRIDE Coalition, the Foundation made a multi-year commitment to bring a crisis diversion center to our community, addressing a gap in the local continuum of care.
CDFI Friendly Bloomington is an innovative approach to bringing financial resources to our community to address needs that include affordable housing, small business growth, and community facilities.
In 2021, the Foundation will introduce an impact investing model that will allow for more creativity in supporting local needs and priorities.
We're thankful to our partners for helping to launch and sustain these leadership initiatives.
---
While no one could have predicted the unprecedented changes and challenges that COVID brought this year, we are grateful for our community partners and collaborations that enabled us to rapidly assess need. In response, Community Foundation deployed more than $550,000 this year to support emergency COVID-19 relief and nonprofit sustainability in Monroe County.
---
---
---
---
---
---
These grants would not have been possible without the generations of donors, including those who responded as needs emerged this year, that have trusted us for 30 years to address pressing needs and compelling opportunities in Monroe County. Thank you for your support.
The Community Foundation is here for you—and because of you. In our first 30 years, generous individuals, families, and businesses who share a passion for Monroe County have generously donated $44 million to make a difference today and a lasting impact in our community forever!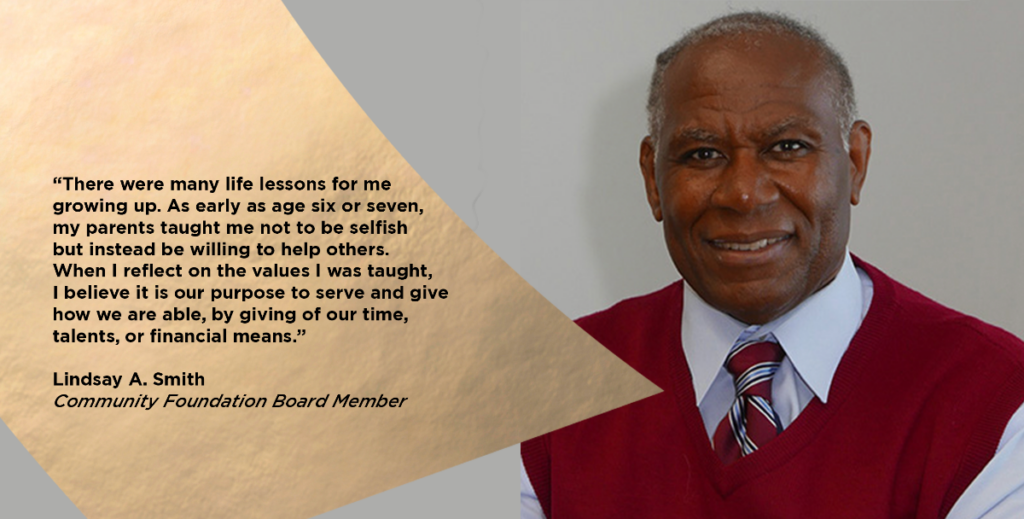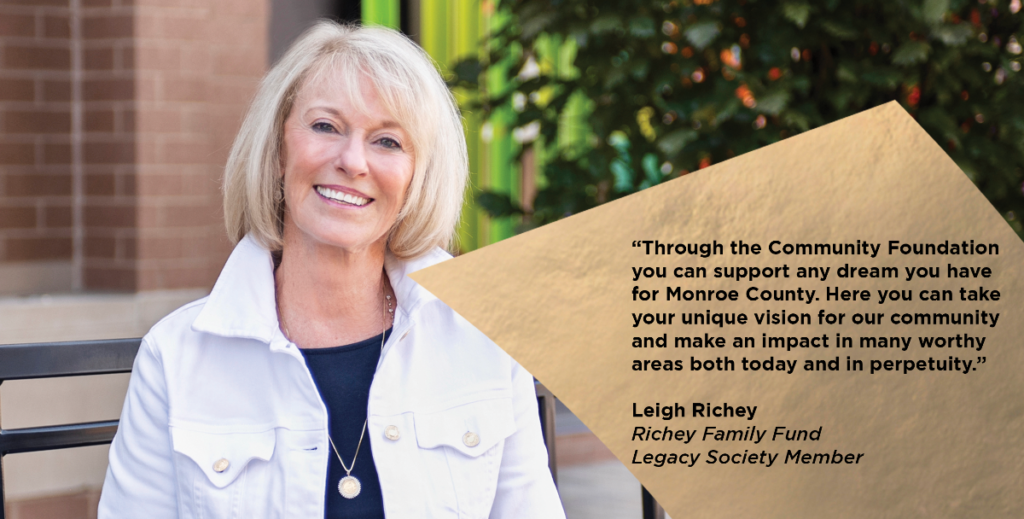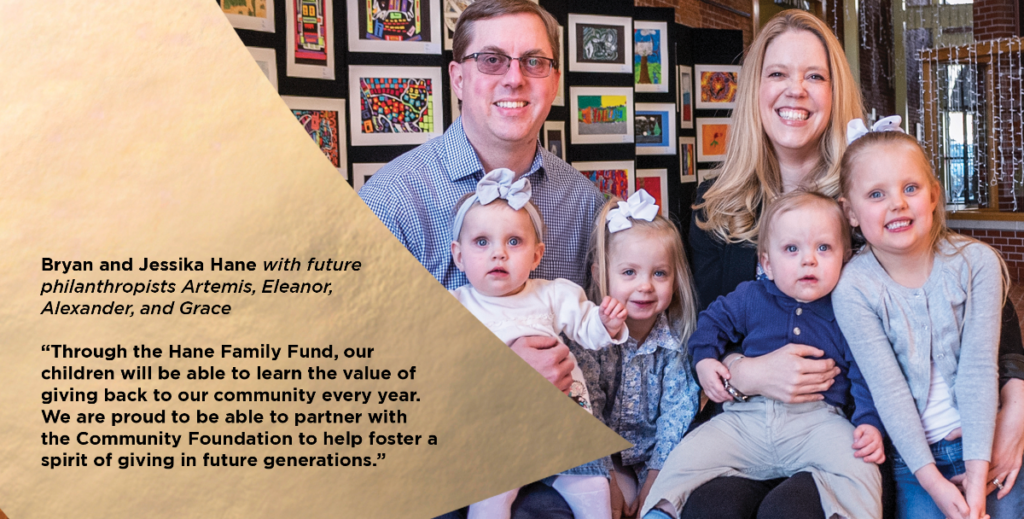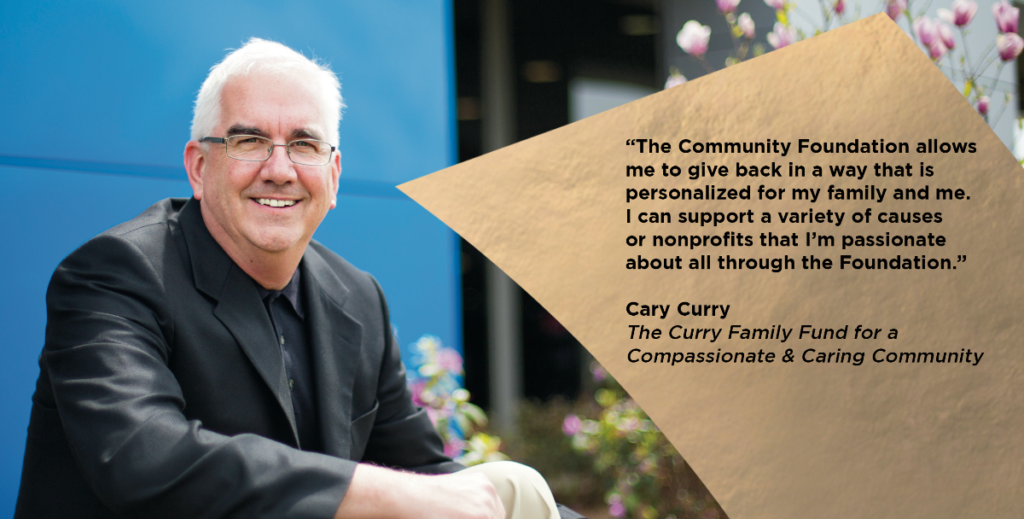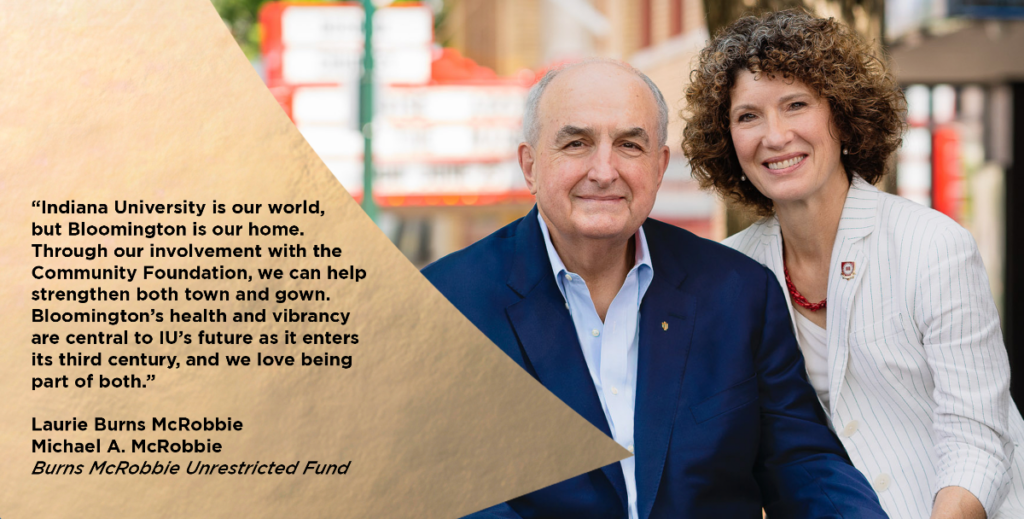 The majority of funds at the Community Foundation are endowed. Through the power of endowment, grants can be made now to address causes you care about most while your gifts grow over time to do good for many years to come.
We're grateful for our 75 Legacy Society members! Membership in The Legacy Society is open to anyone who names the Foundation in their estate planning documents, often done through a will bequest or a trust distribution. You can also name the Community Foundation as a beneficiary of your IRA, retirement account, or life insurance policy. We sincerely thank all those who leave a legacy to benefit Bloomington and Monroe County in perpetuity.
---
Thank You for helping us make a lasting difference in Bloomington & Monroe County! Watch this video to take a virtual walk down memory lane with us and see pictures that capture the history of the Community Foundation's first 30 years.
Create your dream for Monroe County! Whether it's an endowment to address the community's most pressing needs or supporting a cause you care about most, the Community Foundation can help you make a positive impact that endures forever in our community. To learn how, check out www.CFBMC.org, or contact Development Director Meagan Niese at meaganniese@cfbmc.org or (812) 333-9016.