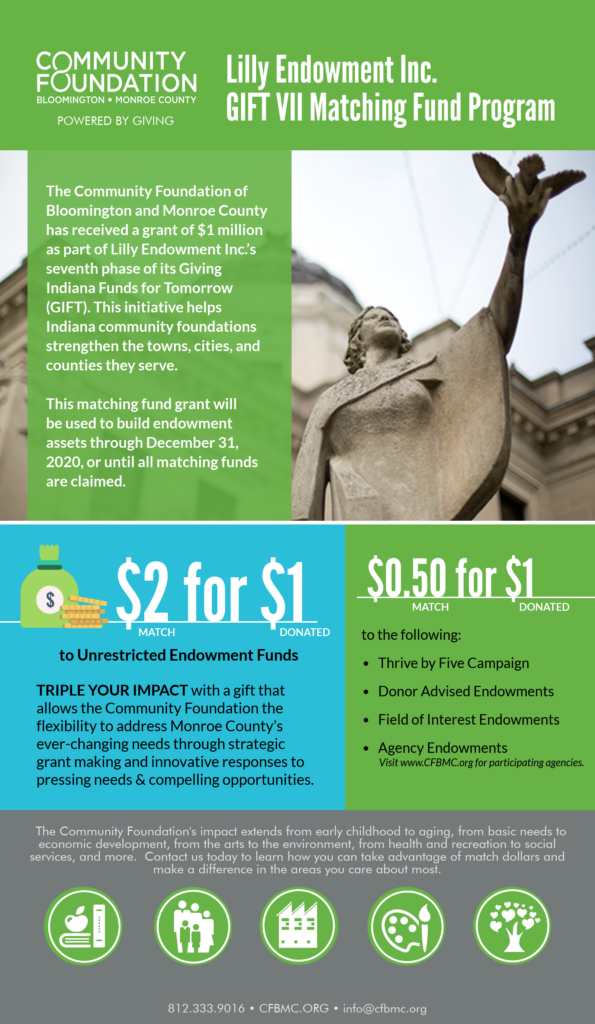 Marching grant funds to support unrestricted, Thrive by Five, agency, field of interest, and donor advised endowment funds.
The Community Foundation of Bloomington and Monroe County (CFBMC) has received a grant of $1 million as part of Lilly Endowment Inc.'s seventh phase of its Giving Indiana Funds for Tomorrow (GIFT) initiative. With GIFT VII, the Endowment is making up to $125 million available to help Indiana community foundations strengthen the towns, cities, and counties they serve.
"The Endowment's commitment to accelerating the growth of Community Foundations in all 92 Indiana counties speaks to their belief in the role that local philanthropy should play in advancing opportunity at home and across the state," said President and CEO Tina Peterson. "How fortunate we are that the Endowment not only helps community foundations grow strategic resources but also allows us the flexibility to do so in the most locally relevant way."
CFBMC will use this matching fund grant to build endowment assets to support our charitable activities. At least two-thirds ($667,000) of the matching fund grant must be designated to support the growth of CFBMC's unrestricted endowments, which over time will provide flexibility to help the Foundation to meet the community's most pressing needs or compelling opportunities. The Endowment will provide $2 for every $1 contributed to CFBMC's unrestricted funds during the matching period, October 1, 2018, through December 31, 2020.
CFBMC has designated up to one-third of the matching fund grant ($333,000) to support other charitable endowment funds that support our community's priorities. The Endowment will provide 50 cents for every $1 for gifts to these endowment funds during the matching period. The CFBMC Board of Directors has selected three types of funding opportunities available for this portion of the matching grant:

The Thrive by Five Campaign & early learning endowment gifts: Launched in 2017, Thrive by Five is an endowment campaign with a goal to raise $1 million to sustain early learning initiatives in Monroe County through the Community Foundation's Monroe Smart Start program. Thrive by Five endowment funds will be used for increasing access to high-quality education, improving quality of programs, cultivating family engagement and community partnerships, developing training opportunities for educators, and providing required community matching funds for On My Way Pre-K students.

New and existing agency endowments: Matching funds are available for selected 501(c)(3) nonprofit organizations to establish a new agency endowment funds or grow existing endowments at the Community Foundation. Local nonprofits were invited to submit an application to participate in the agency matching program, and all the nonprofits that applied were accepted. The match period for this funding opportunity begins in February 2019. Participating agencies and more information can be found at: https://www.cfbmc.org/agency-matching-program/
Field of interest and donor advised fund gifts: Support for field of interest or donor-advised endowments at the Community Foundation. Contributions to these types of funds give donors opportunities to target areas from basic needs to economic development, arts to the environment, health and recreation to social services for local families and more.
"The strategy we have chosen for maximizing the impact of GIFT VII will allow donors the flexibility to support their personally philanthropic passions," added Peterson. "With only a few exceptions, we can deploy match dollars to support any type of endowed fund or charitable purpose. This gives us the opportunity to enhance our capacity as a strategic grant maker while also helping local nonprofits grow their capacity. Any way you look at it, it's a win for Monroe County!"
The GIFT initiative is part of Lilly Endowment's grantmaking to strengthen Indiana communities and has been a priority of the Endowment since the first phase of GIFT in 1990. The initiative's primary aim is to help Indiana community foundations develop the philanthropic capacity to identify, prioritize and address local opportunities and challenges.
To encourage the engagement of CFMBC's board of directors, the Endowment also will award an additional $100,000 unrestricted grant if the foundation achieves 100 percent financial support from each of our board members during the period January 1, 2019, through June 30, 2020.
"The Community Foundation board of directors has always valued leadership giving as an imperative of board membership," said CFBMC Board Chair and Chancellor of Ivy Tech Community College – Bloomington Jennie Vaughan. "In the last round of Endowment matching, our board members personally contributed over $100,000 toward the matching goal. There is no question that our board will once again participate in GIFT VII by supporting both the matching goal and the board giving goal, as well."
This year, CFBMC will also have the opportunity to apply for more funds through GIFT VII's community leadership grants. This component includes both planning and implementation grants, which are available to help the Foundation deepen its understanding of the challenges and opportunities facing our community; convene key local stakeholders and explore how it can effectively play a leadership role in implementing initiatives and strategies that enhance the quality of life in Monroe County.
"The Community Foundation Board and Staff are exploring topics and strategies for which we are uniquely positioned to address through a leadership initiative, said Peterson. "We will be looking for feedback and input from stakeholders from across our community to ensure that our efforts are locally relevant and specific."
Lilly Endowment Inc. is an Indianapolis-based private philanthropic foundation created in 1937 by three members of the Lilly family – J.K. Lilly Sr. and sons J.K. Jr. and Eli – through gifts of stock in their pharmaceutical business, Eli Lilly & Company. The Endowment exists to support causes of community development, education, and religion. Lilly Endowment's community development grantmaking is designed to support efforts that enhance the quality of life in Indianapolis and Indiana.