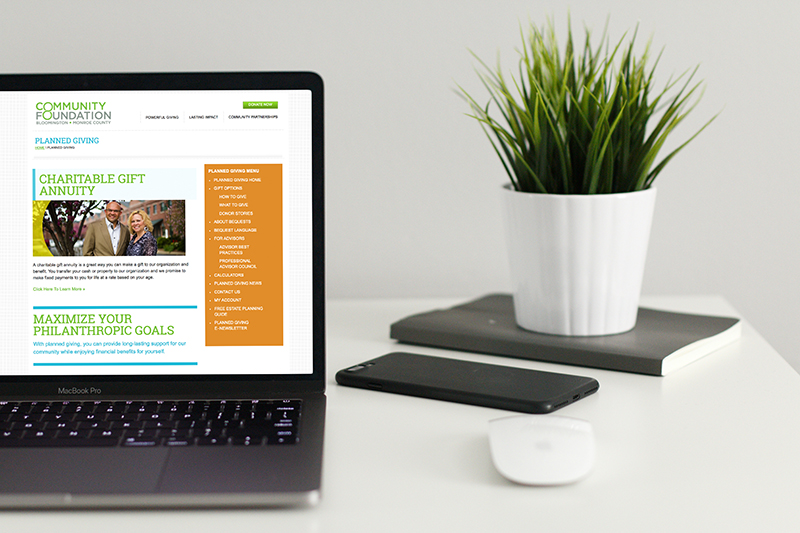 Planned giving made easy!
Good planning requires good information. We have it for you! We've launched a new planned giving website where you will find comprehensive resources to help create a legacy for your family and community using your estate plan.
What and How to Give
Find out what types of assets make the best planned gifts. Learn about gifts of cash, stocks, and property. Discover how to make a gift that provides tax benefits and even income for life.
Online Will Planner
Access an easy, secure guide to plan your estate. Complete the information on your family, estate, and goals using your personal account. Use your guide for efficient conversations with your professional advisor to create your estate plan.
Gift Calculators
View personalized gift calculations that show the income and tax benefits of setting up a gift plan using your assets and property values. Compare the benefits of various gift vehicles.
Gift Planning Stories, News & Articles
Learn how others have made an impact through their acts of giving to the Community Foundation. Enjoy articles on personal planning, Washington and financial news. Articles are updated every week, so visit us again and again.
See The New CFBMC Planned Giving Website
A special gift for you!
As part of this launch, we would like to give you a FREE Estate Planning Guide to help you successfully plan your legacy, provide for, and protect your family today. Get your free Estate Planning Guide.

Have questions? We're here to help! Contact Development Director Meagan Niese at 812.333.9016 or meaganniese@cfbmc.org.
Copyright © 2018 Crescendo Interactive, Inc. Used by permission.