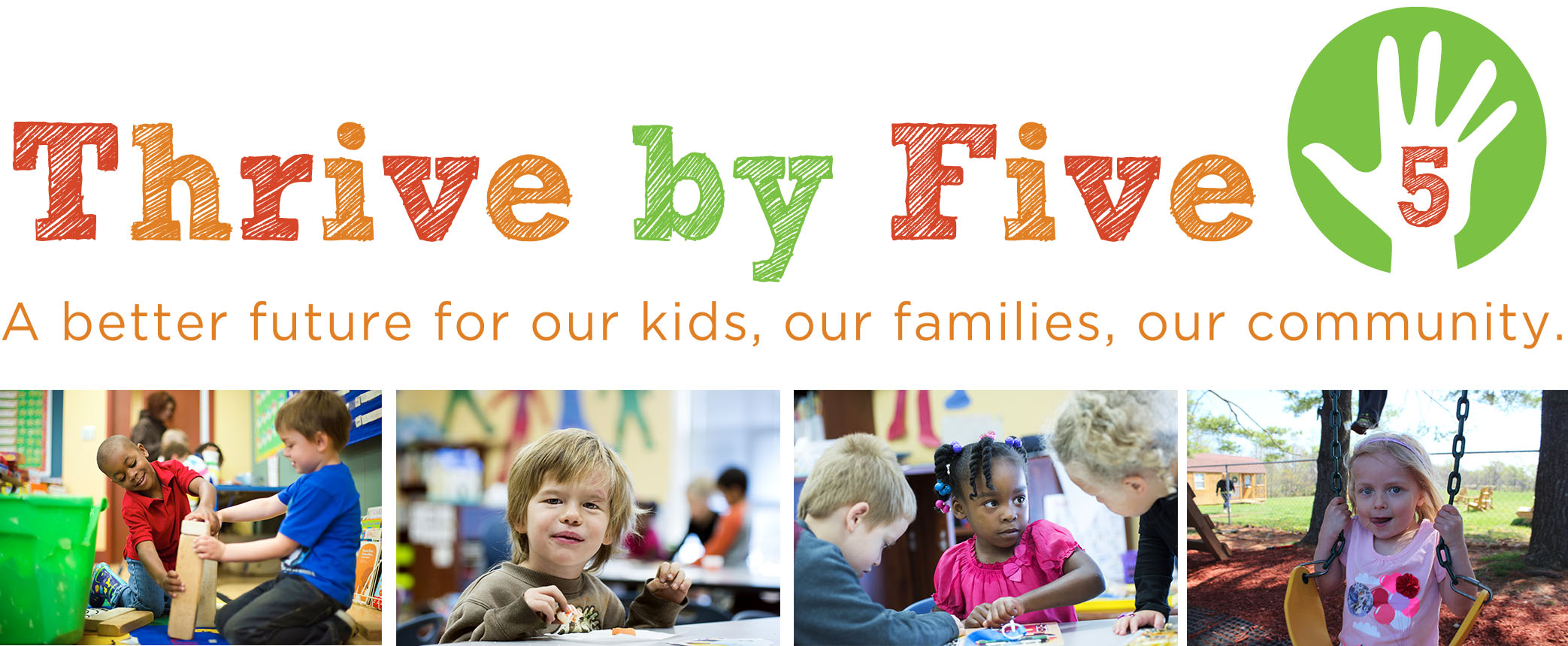 There's never been a better time to be a preschooler in our community. Like never before, they will have opportunities to succeed, to excel, to conquer life.
This year the Community Foundation is planning to build on the momentum for early childhood education by raising $1,000,000 through the Thrive by Five Campaign.
This fund will generate $42,500 each year, forever, to sustain and support Monroe Smart Start's early childhood programs for children. Elliot Lewis and his family have established the Lewis Fund for Early Childhood Education, the official endowment of the Thrive by Five Campaign, with a generous $100,000 gift.
Donate now to support our youngest learners with a gift to the Thrive by Five Campaign!
| | | |
| --- | --- | --- |
| | or | Mail a check to CFBMC, 100 South College Ave, Suite 240, Bloomington, IN 47404 (include "Thrive by Five" on the memo). |
When kids have access to quality early learning experiences:
They are less likely to need special education services or to be retained
They are more likely to graduate from high school
Lifetime earning potential increases by 60%
When families have access to affordable high quality learning experiences:
Parents are able to earn while children learn.
Parents can advance their career potential through education and training.
Parents improve the financial future of their families.
When communities invest in early childhood education:
Economic prosperity grows as families and children prosper.
A return of $7 for every $1 invested is realized.
They benefit from future citizens who vote, pay taxes, and raise children who succeed.
The Thrive By Five Campaign co-chairs, Jessika Hane and Jessica Merkel are leading the charge to invite the Monroe County community to join together so every child is prepared for school and prepared for life.
"As working moms, we depend on these programs. If childcare is so necessary for us, I can only think of how critical it is for families struggling to make ends meet. The affordability and reliability of childcare can determine whether a parent keeps a job, makes a rent payment, has food for their family or can fill a prescription. It is invaluable to have quality, affordable childcare in our community. It not only improves the lives of our children but their entire family as well."
-Jessica Merkel, Co-Chair of the Thrive by Five Campaign
Campaign Cabinet:
Jessika Hane, Oliver Winery, Co-Chair
Jessica Merkel, Bunger & Robertson, Co-Chair
Alisa Hendrix, Community Advocate
Dr. Jim Laughlin, IU Health
Liz McCrea, Retired Indiana University
Laurie Burns McRobbie, Indiana University
Dan Peterson, Cook Medical
Kevin Theile, T.I.S., Inc.
Jennie Vaughan, Ivy Tech Community College