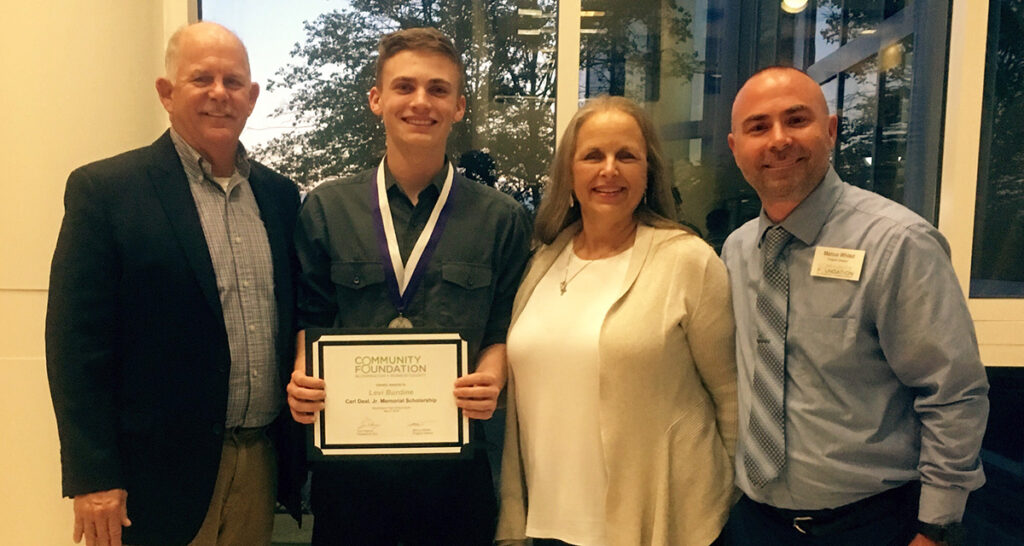 Levi Burdine, a senior at Bloomington High School South, has been awarded the 2019 Carl Deal, Jr. Memorial Scholarship in the amount of $2,000. Established at the Community Foundation of Bloomington and Monroe County, this scholarship is presented annually to a current, or former Boys & Girls Club member for post-secondary education or training.
Carl Deal's wife Berit with longtime friend Tommy Richardson were joined by Community Foundation Program Director Marcus Whited to award the scholarship to Burdine at the school's scholarship presentation on May 6, 2019.
"Burdine was selected for having demonstrated a good work ethic, outstanding citizenship, and a positive mental attitude in and out of the classroom," said Whited.
About Carl Deal Jr.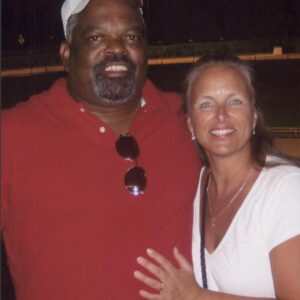 Born in 1959, Carl "King" Deal Jr. grew up in the Crestmont neighborhood on Bloomington's northwest side. He attended Fairview Elementary and Dyer Jr. High, and was a graduate of Bloomington High School North. Carl also worked for over 25 years at General Electric in Bloomington. As a child, his father coached youth sports at what was then the Boys Club, where Carl and his brother Steve were active members. Carl developed lifelong friendships through his involvement with the Club. He appreciated the commitment and impact that the Boys and Girls Club had on his life and wanted to give back to the young people of this community. Carl was known for his big personality, for his generous nature, and as an advocate for the Boys & Girls Clubs of Bloomington and the families they serve.
After his unexpected death in 2012, Carl's wife Berit, friends, family, and co-workers launched an annual fundraiser to support the Boys & Girls Club and to create a scholarship in Carl's memory. Held in August, the King's Blues, BBQ & Funk Fest at Upland Brewing Co. has drawn 400 people each year since 2013.
"Carl was a strong believer in the power of education, and it is my hope that, through this endowment, kids who wouldn't normally receive such an award, will be able to achieve things that might not have been possible before," said Berit Deal.
"Carl and Berit understood fully what it means to 'pay it forward,'" said Jeff Baldwin, executive director of the Boys and Girls Clubs of Bloomington. "They both recognized the value in the Club and what it did for them and for other youth in the community."
Information and eligibility requirements for the Carl Deal, Jr. Memorial Scholarship can be found at https://www.cfbmc.org/lasting-impact/apply-for-a-scholarship/deal/.